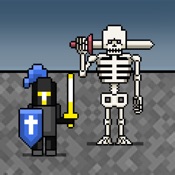 ***DUE TO THE TIMELINESS, PLEASE NOTE THAT THE iTunes PRICE CHANGES!***
Origin Price: $2.99, Now Free Limited Time.
Description
8bitWar puts your strategical and tactical thinking to the test!
Hire units and place them in strategic formations to counter the enemy army.
100 levels and 24 unique unit types and monsters.
Play against a friend on the same device or online!
Screenshots