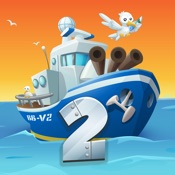 ***DUE TO THE TIMELINESS, PLEASE NOTE THAT THE iTunes PRICE CHANGES!***
Origin Price: $0.99, Now Free Limited Time.
Description
** Leaving the App Store soon, Boom Boat 2 is forever stuck in 32-bit. Get it for free while it's here! **
Boom Boat 2 is the sequel to the explosive physics puzzler hit, Boom Boat. The underwater garden gnomes are back and plotting to destroy the world. Defeat their plan using the multitude of weapons at your disposal: Bombs, magnets, dynamite, and even gnome-eating sharks! In this epic story of good vs. gnomes, can you stop them before it's too late?
Game Features:
* 150 Physics-based Challenges across 50 Levels
* Gorgeous Art and Special Effects
* Game Replay Integration for Sharing
* Game Center Achievements and Leaderboards
* Universal App on iOS Devices
* Gnomes. Boom.
Note: Boom Boat 2 is optimized for iPhone 5.
Screenshots