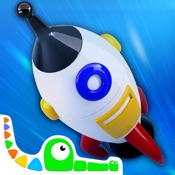 ***DUE TO THE TIMELINESS, PLEASE NOTE THAT THE iTunes PRICE CHANGES!***
Origin Price: $1.99, Now Free Limited Time.
Description
Busy times lie ahead for restless little hands! Get this app with lots of colorful toys children age 3+ can build themselves! Busy kids are happier!
Build and Play 3D – Rockets, Helicopters, Submarines and More is a sequel to the award-winning Build and Play 3D – Planes, Trains, Robots and More app, bringing you new colorful and exciting toys young children can easily build themselves and then control and play with for endless fun.
Looks like it's time for kids to get busy because toys they can assemble in this app include:
• ATV
• Rocket
• Tip truck
• Tractor
• Submarine
• Boat
• Helicopter
• Astronaut
• Cars
• Satellite
• Bucket excavator
And it's all so simple, they just have to put 3D parts together to get the toy complete, so everyone is a winner! Adding each part is easy as the toy rotates automatically to help children put the missing piece in the right place. Also, they can rotate the toy themselves to check what's done and see what's left to add. Kids will have fun joining together wheels, propellers, wings, windows and other parts to create rockets, trucks, cars, boats and much more.
Once each toy is complete, it's time for a background change and see what they can do: the tractor moving over the wheat fields, the submarine diving on the bottom of the ocean, rockets and astronauts exploring the outer space, they are all there to help stimulate young minds' imagination.
App features:
– Beautifully designed 3D toys
– Intuitive gameplay
– Creative animations for each toy
– Simple and engaging interface allows for uninterrupted play
– Optimized for both iPhone and iPad
– Ability to turn sound and music on/off
– iOS 8 ready!
If you enjoy Build and Play – Rockets, Helicopters, Submarines and More, try more of our fun learning apps for kids:
•Build and Play 3D – Planes, Trains, Robots and More
•Build and Play 3D – Planes Special Edition
•3D Sketch and Stretch Studio
•Play and Discover – Shapes, Numbers, Music and More
•Shape Sorter – Early Learning Blocks
•Sort and Stack – Play Smart and Learn
•Kids' First Cube Puzzle – Parrot the Pirate, Doctor Fox, Detective Squirrel and Friends
•Fairytale Sort and Stack – Princesses, Knights, Dragons and More
•Design and Play – Monster Cute Jewels For you
•StoryBook Studio – Create > Animate > Record
About Croco Studio:
Croco Studio is an award-winning team of parent developers intent on creating apps that kids adore and parents trust. Our apps provide a safe playing environment without ads or in-app purchases. At Croco Studio we create apps that encourage kids to learn the fun way.
Please contact us with feedback at WeListen@crocostudio.com. We'd love to hear from you.
Screenshots
iTunes Download: