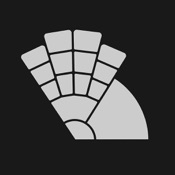 ***DUE TO THE TIMELINESS, PLEASE NOTE THAT THE iTunes PRICE CHANGES!***
Description
Clawtar is a lead musical instrument and MIDI controller that adapts to the player's hands.
The biggest problem with all virtual musical instruments is the almost complete lack of tactile reference. You have to constantly control your performance with your eyes to make sure your fingers go to the right places.
Clawtar's adaptive interface allows you to position your hands and fingers in the most natural and comfortable way. After choosing your position, you can play by moving only your fingers, with your hands completely relaxed.This approach minimizes the need of visual control, allows you to leverage your muscle memory, and gives your brain more time to think about the music you are playing.
Clawtar has 9 built-in sounds to get you started and can control any synth/sampler app that support CoreMIDI ( SampleTank, GarageBand, Animoog, Thor, Magellan, Thumbjam and many more)
Go to http://clawtar.info for more information
FEATURES
• Adaptive interface
• Chromatic scale
• 4+ octaves range (8+ with octave shift buttons)
• Pitch-bend control
• Modulation control
• Volume control
• Repeat button (allows to play same note multiple times faster)
• Transposition (allows to change root note)
• 9 built-in sounds.
• Virtual MIDI and Wi-Fi MIDI output.
LINKS
• Clawtar info site: http://clawtar.info
• Music App Blog review: http://musicappblog.com/clawtar-review/
Screenshots