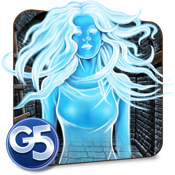 ***DUE TO THE TIMELINESS, PLEASE NOTE THAT THE iTunes PRICE CHANGES!***
For iPhone Origin Price: $4.99, Now Free Limited Time.
For iPad Origin Price: $6.99, Now Free Limited Time.
For Mac Origin Price: $6.99, Now Free Limited Time.
Description
The city's mundane rhythm is suddenly disrupted by the emergence of a flying island high in the sky. Though the island initially appeared to be deserted, the citizens realize that they are not alone in the universe. Before long, the island becomes a tourist magnet, increasing revenues and crime. Then one day, Mary, who works at the city orphanage goes missing after a beam of light is seen coming from the island above. Explore the creepy island using the clues Mary left, make friends with the spirits of the island's people, solve challenging puzzles, find missing crystals and take your friend back home in this absorbing adventure.
● 52 fascinating locations to explore
● 19 thought-provoking mini games
● 3 game modes: Casual, Normal, Expert
● 4 engaging comics
● Out-of-this-world storyline
● Game Center Support
● iPhone 6+ support
____________________________
Game available in: English, French, Italian, German, Spanish, Portuguese, Brazilian Portuguese, Russian, Korean, Chinese, Japanese
____________________________
Sign up now for a weekly round-up of the best from G5 Games! www.g5e.com/e-mail
____________________________
G5 Games – New game apps every week !
Collect them all! Search for "g5" in iTunes!
Adventure:
▶ Games Navigator – By G5 Games
▶ The Secret Society® – Hidden Mystery
▶ Letters From Nowhere: A Hidden Object Mystery
▶ Nightmares from the Deep™: Davy Jones, Collector's Edition
▶ Dream Catchers: The Beginning
Strategy:
▶ Virtual City Playground®: Building Tycoon
▶ Doomsday Preppers™
▶ Stand O' Food® City: Virtual Frenzy
▶ Brave Tribe: Village and Farm Building and Management
▶ Supermarket Mania® 2
____________________________
VISIT US: www.g5e.com
WATCH US: www.youtube.com/g5enter
FIND US: www.facebook.com/g5games
FOLLOW US: www.twitter.com/g5games
G5 End User License Supplemental Terms: http://www.g5e.com/G5_End_User_License_Supplemental_Terms
Screenshots
For iPhone Download:
For iPad Download:
For Mac Download: