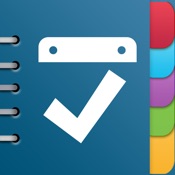 ***DUE TO THE TIMELINESS, PLEASE NOTE THAT THE iTunes PRICE CHANGES!***
Origin Price: $4.99, Now Free Limited Time.
Description
Informant is a professional day planner integrating calendaring and powerful task management, along with rich notes and contacts. Our users are passionate and rightfully so. Their calendars and tasks drive them to success and Informant helps them get there. Join the almost million users who depend on Informant daily and have for almost 15 years. Now with full support for iOS 9, iPhone 6s, and the new iPad Pro, you can enjoy even more great features!
—————-
"I have yet to see another calendar app do what this one does."
"Tasks are often associated with due dates anyways, so the fact that Informant allows you to show both events and tasks for any given day side-by-side is a big plus."
—————-
UPGRADE A LA CARTE!
• Enjoy the specific features you want with individual feature packs – convenient one time purchases let you pick what you want without paying full price
• Alternatively subscribe to Informant Sync. The most complete sync service for Informant – and get all feature packs free during your subscription:
– Monthly recurring fee of $3.99
– Yearly recurring fee of $24.99
AWESOME CALENDARING
• Type (or speak*) naturally! Simply enter phrases like "Coffee with Mom Tuesday at 8am".
• TravelAssist™ helps manage the timezone mess! Let Informant automatically setup your timezones for you – both inside and outside your trip dates!
• Today Widget allows you to see and access your Informant data from your device home screen!
• Travel ETA to your next event
• Location Aware – PI suggests locations as you type. See today's events plotted on a map. Tap to get driving directions to your events.
POWERFUL TASKS
• Type (or speak*) naturally! Enter phrases like "Take out garbage every Friday at 8am".
• Import Apple Reminders into any Project or Task List
• Checklists – for tasks that contain lists – like groceries, packing, etc.
• Fully integrated in the calendar – or as a separate view
• Several handy built-in filters or create your own Smart Filters.
• Create templates to automatically pre-populate new tasks
• Task Modes – Simple, GTD, or Franklin Covey. Manage your tasks in your own way!
SMART TITLE
Automatically bring up templates and contacts as you enter an event or task title to setup meetings, calls, and more!
Link to phone numbers, addresses, email addresses for quick access
WEATHER (included in the Power Pack)
Planning a day out on the beach? Check the forecast on your calendar!
SYNC LETS YOU WORK OFFLINE
• Informant Sync – The best way to keep all your Informant data in sync across all your iOS & other devices.
• Google Calendar & Tasks
• Toodledo
• Evernote
• Access Apple Events and Reminders directly
CUSTOMIZABLE
Several built-in themes to fit your style! Colors, icons, tags, and more!
SO MUCH MORE!
Check out our website (http://pocketinformant.com/) for more information!
Our privacy and terms of use: http://pocketinformant.com/company-press/privacy/
Check out this article for more information about Informant: http://tinyurl.com/pkx94zt
Informant Sync is available for $3.99 per month or $24.99 annually. You will be automatically billed $3.99 through iTunes every 30 days or $24.99 every 365 days until you cancel your subscription. Your subscription automatically renews unless auto-renew is turned off at least 24-hours before the end of the current period. You subscription can be managed and the auto-renewal may be turned off by going to the iTunes Account Settings after purchase. No cancellation of the current subscription is allowed during active subscription period.
Informant 5 is now available as a separate app in iTunes.
GTD and Getting Things Done are ® of the David Allen Company
Screenshots