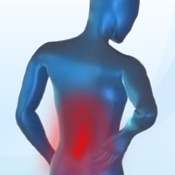 ***DUE TO THE TIMELINESS, PLEASE NOTE THAT THE iTunes PRICE CHANGES!***
Origin Price: $0.99, Now Free Limited Time.
Description
For treating or preventing lower back pain, iREHAB Back Pain is a pocket Physical Therapist whenever and wherever you need it.  Built by Physical Therapists, iREHAB Back Pain will ask you specific questions about your pain. And based on your answers, will provide you the correct exercises @ the correct time.  As your needs change, simply update your answers and receive different exercises.
IREHAB's exercise animations are exceptional; presented with voiceover, multiple angle views, lines and arrows to assist you with exactly how to perform your exercises thoroughly and safely for better results!
With clinical knowledge embedded into the fabric of our applications, IREHAB provides you a trusted solution and ongoing support for lower back pain.
Screenshots