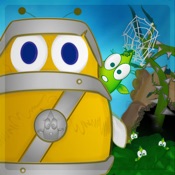 ***DUE TO THE TIMELINESS, PLEASE NOTE THAT THE iTunes PRICE CHANGES!***
Origin Price: $0.99, Now Free Limited Time.
Description
Lil Big Invasion is an exploration based adventure game with unique puzzle solving mechanics. Awake your protective instincts and challenge your brain trying to rescue cute little guys which got lost in dangerous dungeons.
Those silly green guys got lost in tricky dungeons! As an aged firefly you have to find them, keep them together and lure them with your light to the exit – a giant vacuum cleaner – in order to suck them back home.
Outsmart winds, spider webs and glowing flowers. Find secret paths and meet helpful creatures. Activate switches and win epic boss fights with the power of your light. But be aware that flying consumes light energy. So keep your light recharged, rescue those silly guys and become a firefly hero!
Features:
• Win 5 unique boss fights
• Explore 40 handcrafted dungeons
• Rescue over 400 crazy little creatures
• Throughout 5 different and exotic worlds
• Unique dungeon puzzle solving mechanics
• Perfect suited game for children, adults and families
• GooglePlay integration (Achievements + Leaderboards)
• Charming but also challenging (100% challenge + bonus content)
Screenshots