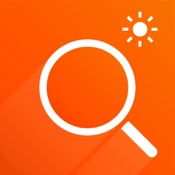 ***DUE TO THE TIMELINESS, PLEASE NOTE THAT THE iTunes PRICE CHANGES!***
Origin Price: $0.99, Now Free Limited Time.
Description
Did you forget to take your reading glasses or need a magnifier to read small text ?
Just pick your iPhone to transform it instantly into a magnifier glass with torch light.
Magnifier Flash is an enhanced magnifier glass with flash light torch, with the additional capability to SAVE a receipt to camera roll.
Great for reading receipts in dim lights at restaurants.
Great for reading small text in the dark, either inside your car during night or anywhere else. Magnifies small text up to 6X digital zoom, and gives a very clear text without shake.
Single tap "Snap and Save" the view to camera roll.
Key features:
1. Magnifier with up to 6X zoom and clear enlarged text of small prints or receipts.
2. Torch ON/OFF button to read text in dim light or in the dark.
3. Snap and SAVE what you see in the view ZOOMED on to the camera roll by clicking the save to roll button. Using this feature, you can later at any time view the photo or get it emailed to your desktop from your iPhone.
4. Search for small objects in the dark, anywhere on the ground on misplaced items.
5. Useful while searching for items in the car during the night.
*** Great User reviews ***
@ Simple and effective!
Wonderful app for reading small texts and zooming in on small objects. Flashlight can be turned on too, allowing you to use this app in dark place
@ Good for close up work
Clear and quick macro for your camera. Easy to use and is perfect for close up work.
@ Must have App.
If you need to write little texts or make a macro picture of something this app it's for you. Love it.
Thank you for this app! I use it often. I'm always forgetting my glasses. This is so handy in reading labels, receipts when eating out, and the light is a bonus when in dim areas. The view is sharp and light is bright on the iPhone 5.
Full screen with light. No wasted screen space. Good for reading menus in dark restaurants.
Screenshots