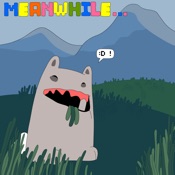 ***DUE TO THE TIMELINESS, PLEASE NOTE THAT THE iTunes PRICE CHANGES!***
Origin Price: $0.99, Now Free Limited Time.
Description
Offender 2 (World War B: War on Rabbits) is a cartoon indie game made from the alien's point of view. Play a space invader abducting rabbits during an eight day long battle for dominance over Earth. The Earthlings, depicted as rabbits due to intergalactic censorship laws, do not take well to invaders who "just want to show love". They fight back (very passionately), and you are left with nothing but your bombs and beam to aid you during your abduction spree.
Screenshots