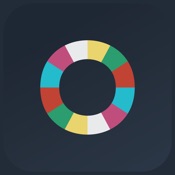 ***DUE TO THE TIMELINESS, PLEASE NOTE THAT THE iTunes PRICE CHANGES!***
Origin Price: $0.99, Now Free Limited Time.
Description
The inspiration generator app.
"Don't just think outside the box, crush it with creativity sparker Oflow." – Official @AppStore
Oflow sparks your imagination with more than 150 proven creative prompts for having ideas and using your imagination whenever you feel stuck.
• Bookmark your favorite methods for getting unstuck
• Create and share ideas and notes
• Export methods or notes to Evernote
• Set daily creative reminders for inspiration
• iPad and iPhone support
"Oflow features an impressive variety of techniques…such a useful, well-designed resource." – InnovationTools.com
– Designed to help you be more creative and have ideas
– More than 150 proven, creativity tips and prompts that will have you coming up with great ideas instantly
– Set daily creativity reminders
– From creating a mind map to drawing in the dark, Oflow will help you break through any creative block
– Keep notes and bookmark favorites
– Share ideas and methods by email, Twitter, Facebook, or export to Evernote
– Works on both iPad and iPhone devices
#### Check out my other hit apps in the App Store ####
– Brainbean, creative brain games for kids (and adults) on your iPad
– Creative Writing Prompts, helps you create a writing habit
– Wordid, a fun, fast-paced, and creative word game for your iPhone
– Snaplight, helps you capture and highlight quotes from the real world
"A real jumpstart from way outside the box to spark the creative mind." – AppAdvice.com
**Part of the Apple Education program, offering discounts to teachers and educational institutions.**
Screenshots