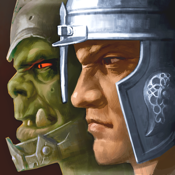 ***DUE TO THE TIMELINESS, PLEASE NOTE THAT THE iTunes PRICE CHANGES!***
Origin Price: $14.99, Now Free Limited Time.
Description
THIS VERSION INCLUDES ALL 73 MAPS!
Palm Kingdoms 2 is one of the most refined strategies for iPhone, iPad – and now on your Mac!
Beautiful graphics and well-thought gameplay allow you to spend hours playing this game!
You control knights, that gather resources, conquer castles and new lands, and fight your opponents.
*The game has 7 factions: Knight, Barbarian, Necromancer, Sorceress, Wizard, Warlock, Varangian.
*Hot-seat mode that allows several people to play using one device.
*180 creature types
*114 artifacts
*All-new map interface
Screenshots