***DUE TO THE TIMELINESS, PLEASE NOTE THAT THE iTunes PRICE CHANGES!***
For iPhone Origin Price: $2.99, Now Free Limited Time.
For iPad Origin Price: $4.99, Now Free Limited Time.
Description
Free today with App of the Day HD(A major update is coming soon!)
Download 'App of the Day', and every day discover one paid app absolutely free!"
**Get every bit of the iOS 8. For a limited time, download the brand spanking new and universal PDF Reader 6 Premium designed for iOS 8 for just $1.99. Take full advantage of all the bells and whistles Apple's latest iOS provides.
PDF Reader is the ideal app for anyone who works with PDFs in the office or at home. PDF Reader allows you to make notes and organize all annotated information with a few taps. You can quickly backup and send documents to your friends, classmates and colleagues via email and all the popular cloud storage services. Optimizing your work quality and productivity couldn't be easier!
***********Widely Recognized by iTunes Store & Media***********
+ Featured as "10 Essentials" in Utility category on iTunes
+ Featured in iTunes "Best of 2012 – Top Paid Apps" in Italy, Brazil, Singapore, Hong Kong, Taiwan and many others
+ Hand-picked by Apple as a Staff Favorite app in the App Store
+ Featured as the best app in the Utility Category of App Store Rewind 2011
+ Best Ranking Records:
Utility: #4 in USA; Top 30 in UK, Germany, Mexico, Brazil, Australia, Spain and more
Screenshots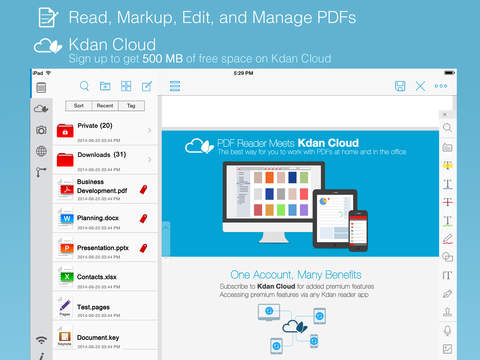 For iPhone iTunes Download:
For iPad iTunes Download: