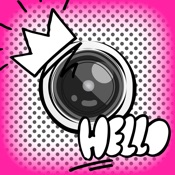 ***DUE TO THE TIMELINESS, PLEASE NOTE THAT THE iTunes PRICE CHANGES!***
Origin Price: $0.99, Now Free Limited Time.
Description
Description make your emotion!
With stylish stickers and effects, you can make a nice photo easily!
■PopCam stickers will make your photos really cool, very quick and easy!
65top-class creators offer over 4,700 pop stickers, such as stylized letters and figures written in felt-tip pen. With stylish stickers, you can instantly upgrade ordinary photos to excellent ones. And then your edited photos can be shared via Facebook, Twitter, Instagram and LINE.
■Introduction of creators
-Pusheen:Chubby cat from America with 8.5 million likes on Facebook worldwide, as well as popularity through his books and mascot items.
-Rikki Kasso:Born in 1979 in Brooklyn, his success diverse from photography, painting, videography and fashion to architecture, including collaboration with Nike and United Bamboo.
The works are loved by top celebrities such as Michael Jackson and Brad Pitt.
-foxyillustrations:Tokyo based illustrator 'FOXY'. Work can be seen in ad, magazines, collaborations with fashion brands and etc.
A total of 65 artists are in now creating pop stickers, and more new stickers will be added soon.
■Supported models
iPhone 3GS, iPhone 4, iPhone 4S, iPhone5,iPhone6, iPhone6Plus
Please note that the first generation iPhone and iPhone 3G are not supported by this app. Sorry for the inconvenience.
■Contact:
Feel free to contact our support desk in case of trouble or questions about how to use the app. Use the help desk before giving a bad review!
Support desk
comicfoto@sonydes.jp
■PopCam Photo
Homepage  http://popcam.jp/
Facebook  http://facebook.com/PopCam.Photo
Instagram  http://instagram.com/popcam_photo/ (ID popcam_photo))
Screenshots