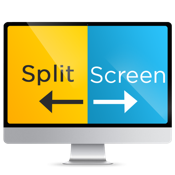 ***DUE TO THE TIMELINESS, PLEASE NOTE THAT THE iTunes PRICE CHANGES!***
Origin Price: $6.99, Now Free Limited Time.
Description
— Trusted by 2,00,000+ Users —
Regular Price: $6.99
Discounted Price: FREE (only for next few days)
Hurry! Download the app now!
*** Best Split Screen app since 2010. ***
Super simple window management.
If you are looking for more advanced features like:
1. Complete Dual Monitor Support
2. Drag & Snap Windows (like you do in Windows OS)
3. Restore original window position
4. Shrink 1/3 window
5. Shrink Top Left
6. Shrink Top Right
7. Shrink Bottom Left
8. Shrink Bottom Right
9. Place window in Center
then get Split Screen Ultimate from here:
http://splitscreenapp.com/ultimate.html
Split Screen allows you to effortlessly resize windows to exactly half your desktop at the touch of a simple keystroke. Gone are the days of trying to resize windows to fit nicely next to each other, with Split Screen it is as easy as pressing a button.
Supported Actions:
– Resize window left
– Resize window right
– Resize window to full screen
Split Screen is fully configurable, allowing you to choose which shortcut keys to use.
Split Screen supports about 90% of apps (some apps are not designed to be resized) and we are adding support to new apps all the time.
Screenshots