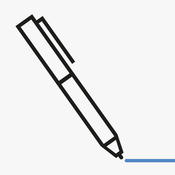 ***DUE TO THE TIMELINESS, PLEASE NOTE THAT THE iTunes PRICE CHANGES!***
Description
Memopad is one simple idea: make the simplest and fastest drawing notepad possible.
Our motto: Draw, share, done!
It's quick to open, easy to draw, fast to share.
The app always opens to a blank canvas ready to draw. All the tools, colors, and share options are one tap away.
Your drawing is automatically copied and ready to be paste whenever you exit the app.
Everything is fast. Really fast!
Yet Memopad is also gorgeous to look at in its minimalist way, and carefully animated.
We tirelessly polished the user experience with tons of animations to make it a joy to use daily. And we tested it for weeks with experienced artists to perfect it.
The user interface has been designed to scale very nicely from the iPhone 4 to 6+ to iPad, offering the same look and feel on every device.
Features:
• 9 highly realistic tools
• Automatic saves to Photo Library
• Automatic copies the drawing to paste into other apps
• Super fast Share menu
• Quickly import a photo as a background
• Minimalist yet gorgeous UI
• Powerful, advanced features
Tools:
Pencil
Pen
Paint
Basic Share: Mail, Facebook, Twitter.
Pro Tools (with Pro in-app purchase):
Paint bucket
Paint area
Pastel
Marker
Paint pen
Text
Pixel
Shapes
Resize
Edit Tip Size and opacity
Screenshots