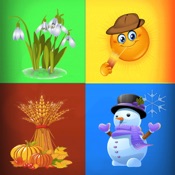 ***DUE TO THE TIMELINESS, PLEASE NOTE THAT THE iTunes PRICE CHANGES!***
Origin Price: $1.99, Now Free Limited Time.
Description
An interactive story that is perfect for teaching young ones the seasons of the year. Learning has never been so much fun!
Filled with wonderful interactive activities and surprises, this game is a source of delight to both children and parents. Kids (ages 2-6) learn about The Four Seasons and natural phenomena while enjoying the game.
Each season has something unique and special that makes us yearn for its arrival. With this application your child can review the seasons of the whole year and see sun appear after the storm, flowers grow in spring, stars shine in the summer night sky, watch leaves fall before the Christmas tree lights up in winter and decorate the Christmas tree.
The application allows you to change the language displayed in English, Romanian or French
No in-app purchases, no external links, no ads!
Discover this  educational game for Kindergarten children and toddlers!
Screenshots