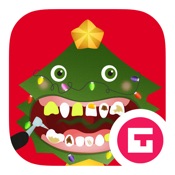 ***DUE TO THE TIMELINESS, PLEASE NOTE THAT THE iTunes PRICE CHANGES!***
Origin Price: $1.99, Now Free Limited Time.
Description
'Tis a season to be jolly! It's Christmas time!
Santa Claus eats too much cookies, Rudolph forgets to floss, Snowman never brushes teeth! So many dental problems! Let's help them fix everything so they can celebrate this Christmas with healthy shiny smiles.
Turn your phone or tablet into the dentist office! Learn about dental instruments and treatments and make teeth of dozens of patients healthy and good looking.
NOW GOT
• 24 holiday heroes!
• 36 fun braces & 12 implants!
• 18 hair styles!
• 6 unusual toothpaste!
• 2 special backgrounds!
• Special holiday features for instruments!
ALSO
• Unlimited number of patients!
• Remove all traces of caries and fill the hole in the tooth!
• Remove tooth calculus!
• Use water and air spray!
• Extract decayed teeth!
• Remove food that stuck in teeth!
• Dental bleaching!
• Remove halitosis!
• Put braces on and take them off!
• Brush teeth!
Have fun!
Screenshots