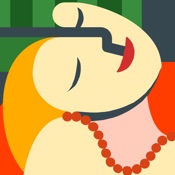 ***DUE TO THE TIMELINESS, PLEASE NOTE THAT THE iTunes PRICE CHANGES!***
Origin Price: $2.99, Now Free Limited Time.
Description
Welcome to WikiArt, the home for visual arts from all around the world.
Aim of the project
Our primary goal is to make world's art accessible to anyone and anywhere. WikiArt already features some 150,000 artworks by 2500 artists. These artworks are in museums, universities, town halls, and other civic buildings of more than 70 countries. Most of this art is not on public view. With your active involvement, we are planning to cover the entire art history of the Earth – from cave artworks to modern private collections. We also provide you with tools for translation on as many languages as needed.
Copyright policy
WikiArt presents both public domain and copyright protected artworks. The latter are showcased in accordance with fair use principle:
as historically significant artworks
as used for informational and educational purposes
as readily available on the internet
as low resolution copies unsuitable for commercial use
Screenshots